Vol. XVI, Issue 38
Systems Unavailable—December 16
Several Wespath systems will be unavailable Saturday, December 16 from 6:00 a.m., Central time until early Saturday evening, to implement the new automatic features for Wespath retirement plans. The following systems will be affected:
Wespath Portal
Benefits Access for plan sponsors (BAP)
Benefits Access for participants
Contribution Management
We apologize for any inconvenience.
Men's Health Maintenance Infographic
The Center for Health published a new Men's Health Maintenance Infographic as a roadmap of milestones that men should discuss with their care provider based on ages and stages of life.
The image below has a link to the graphic on our website. Please feel free to share on your social networks, web pages or online newsletters.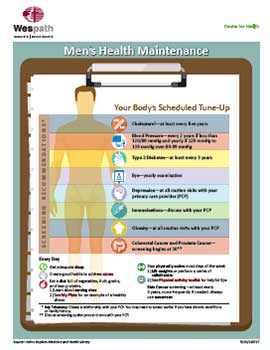 ---