Vol. XVII, Issue 1
Systems Unavailable—January 13
Benefits Access for plan sponsors (BAP) and Contribution Management will be unavailable Saturday, January 13 from 7:00 a.m., Central time until Saturday afternoon, for system maintenance. We apologize for any inconvenience.
Annual Tax Reporting Forms
Wespath will mail the following 2017 Internal Revenue Service (IRS) tax reporting forms to participants no later than January 31, 2018:
Form 1099-R—Distributions from Pensions, Annuities, Retirement or Profit-Sharing Plans, IRAs, Insurance Contracts, etc.
Form 1099-MISC—Miscellaneous Income
Form W-2—Wage and Tax Statement (for disability payments)
The following tax reporting forms will also be mailed to participants on the dates noted:
Form 480.7C—Informative Return—Retirement Plans and Annuities for Puerto Rico plans and residents of Puerto Rico by February 28, 2018
Form 1042-S—Foreign Person's U.S. Source Income Subject to Withholding by March 15, 2018
A copy of the tax documents sent to participants via mail will be available online at benefitsaccess.org at the end of January. After logging in, go to "My Benefits," select the drop-down next to Retirement Benefits, and click "Tax Forms." Form 480.7C will not be available online and will be sent via U.S. Mail.
Participants who cannot access their U.S. tax forms online or wish to receive a copy of Form 480.7C can contact Wespath at 1-800-851-2201.
Center for Health Newsletter
Learn why an annual check-up should be at the top of your new year's resolution list, and read the Indiana conference's Rev. Mike Warner's tips for stocking your resiliency toolbox in this quarter's issue of the Center for Health Newsletter. Please share on your website or social pages, as desired.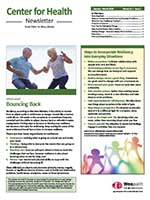 ---