Vol. XVII, Issue 22
Postponed July 11 and 12 Webinars to Discuss Commission on a Way Forward Report
Wespath planned to hold webinars July 11 and 12 to address questions regarding potential benefit plan impacts related to the Commission on a Way Forward report, as communicated in the June 27 On Board Express. Given the recent news of the delay in the publication of Commission's report, we are postponing the webinars.
A future On Board Express will be sent with new webinar dates. If you have any questions or comments, please contact Ross Lundstrom at rlundstrom@wespath.org or 1-800-269-2244, ext. 4224.
New Resources Available from Wespath's Benefit Plans Department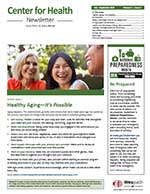 The new issue of Wespath's Center for Health Newsletter talks about being prepared—for retirement, for disaster and more, with strategies for better sleep, staying in shape as you age and having your paperwork in order.
Center for Health Newsletter, Vol. 3, Issue 3
Bulletin: All Day Energy
Bulletin: A Treasured Night's Sleep
---